Hello everyone!
The KARDS 2022 World Championship Grand Finalists have been determined!
Let's take a moment to go over the status of the World Championship to bring us to where we are currently.
Two separate Open in-game Qualifiers were held during weekends between September 10th and October 15th. Close to 2,000 players competed in the Open Qualifiers in over 21,000 total games in the hopes of making it to the top 128 player Knockout Stage. The top 300 players in each Open Qualifier earned the exclusive 2022 World Championship card back, and the top 128 players each received 250 diamonds to spend on anything they desired in the in-game store.
The Knockout Stage was played during the weekend of the 29th and 30th of October. There, the top 2 players in each of 16 groups progressed to a 32 player double elimination round played the following weekend. On November 6th, the top 6 players battled it out live on stream for their spot in the Grand Finals. You can catch up with all the action of the top 6 in the VODs:
Our Grand Finalists will soon battle it out for their share of the $10,000 prize pool, with each already guaranteed at least $1,000.
Without further ado, let's get to know our Grand Finalists!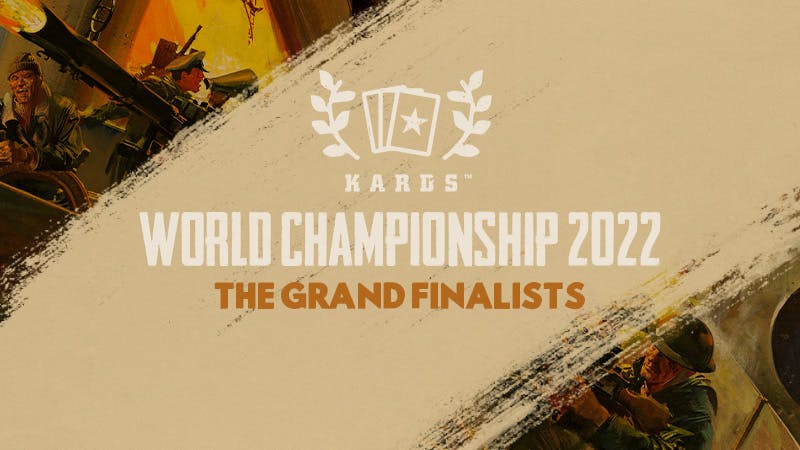 KARDS 2022 World Championship Grand Finalists
Bamboo
Bamboo is a veteran of the game with extensive KARDS experience. He has frequently reached high positions on the seasonal ladder and competed in numerous OCC Qualifiers and KARDS Opens tournaments. His first appearance on the main stage of KARDS eSports was during the top 6 Grand Finals Qualifier stream for the 2022 World Championship. This rising star is in peak form and is ready to give his fellow competitors a run for their money.
Berto Burrito
With numerous successful runs in KARDS Opens and OCCs, including two OCC wins, Berto Burrito is a regular in the KARDS eSports scene. It's no secret that Berto was brought to the game by his good friend and reigning KARDS World Champion, Jking7. Now, this Canadian hopes to take the title away from his fellow countryman and claim it for himself. Berto was able to beat Jking7 during their matches in the top 6 - only time will tell how he will fare if he faces Jking again in the Grand Finals.
Head
Compared to his opponents, Head is a relative newcomer to KARDS, but one that has shown extreme dedication to the game and risen to the top at lightning speed. Head has participated in numerous KARDS Opens and OCCs where he has had some impressive performances. Although he has yet to win a tournament, Head is coming in hot and is well prepared for what's ahead.
Jking7
As the KARDS 2021 World Champion, Jking7 returns to the 2022 World Championship with a title to defend. Consistently securing top spots on the seasonal ladder, with several KARDS Open and OCC wins and a plethora of other high placements during KARDS tournaments, Jking7 is a titan in the KARDS eSports scene. Jking7 is also a KARDS streamer Jking0739, allowing those interested to get a glimpse into the mind of the reigning World Champion. The question that remains is: can Jking7 win the title of KARDS World Champion for the second year in a row?
When & Where
The KARDS 2022 World Championship finals will be brought to you LIVE on the KARDS Twitch channel on the 3rd and 4th of December, starting at 13:00 GMT each day. Our casters and analysts will be on location to bring you an EPIC Grand Finals show!
Make sure to follow us on Twitch, Facebook, Twitter and join us on Discord so you don't miss out on any of the action!