The OCC Point system is a framework within which the most competitive KARDS players earn their place in the quarterly OCC: Ultimate tournament through playing monthly OCC: Clash tournaments. After 3 months of OCC: Clash tournaments, the 8 players with the highest number of OCC points earn their place in the OCC: Ultimate tournament to play for the lion's share of a 3,000 USD prize pool and the title of OCC: Ultimate Champion.
Each month, the top 38 players on the in-game seasonal ladder earn their right to compete in the monthly OCC: Clash tournament. The top 6 players are automatically guaranteed a spot in the top 8, with the remaining 32 players fighting to earn the last two spots through two double elimination brackets, seeded based on ladder position. All games in the top 8 are posted to the KARDS YouTube channel with commentary the weekend after they are played. Following the posting of the videos and results of the OCC: Clash, the OCC Point board is updated to reflect the standings for the OCC: Ultimate.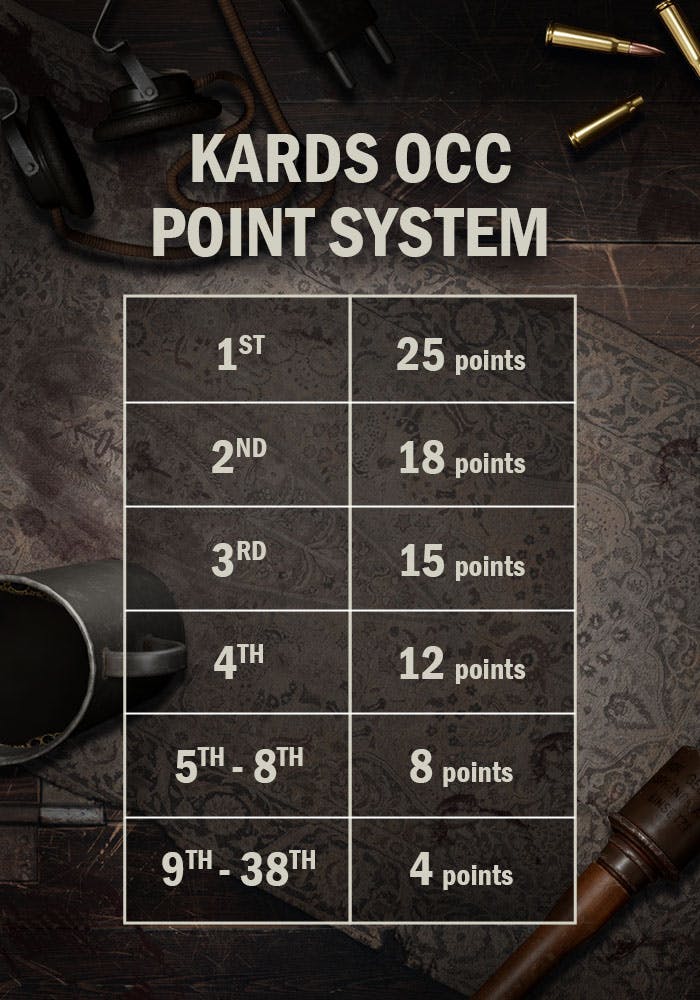 Please note that failure to participate or dropping out mid-tournament drops a player to the 9-38th bracket, giving them 4 points for that OCC event.
OCC: Ultimate seeding is based on OCC point standings. The first place player faces off against the eighth, the fourth against the fifth, and so forth.
OCC Points are reset following the quarterly OCC: Ultimate tournament.