The first Skirmish event is live now until July 17th!

Here's everything you need to know.

Skirmish is a completely new game mode in KARDS where you play with alternate rules. These rules vary so every Skirmish event you'll be facing something new and completely different. You can read more about Skirmishes in our announcement blog New game mode: Skirmish.

In this Skirmish, you will be able to choose your own deck to battle with. At the start of each player's turn 1 damage is dealt to each of their units.

The first time you win a Skirmish you will receive a full set of the new unique card, Supply Shortage. This standard card costs 2 Kredits to play and deals 1 damage to enemy units at the start of the owner's turn. This new card will also be craftable with wildcards even after this event ends.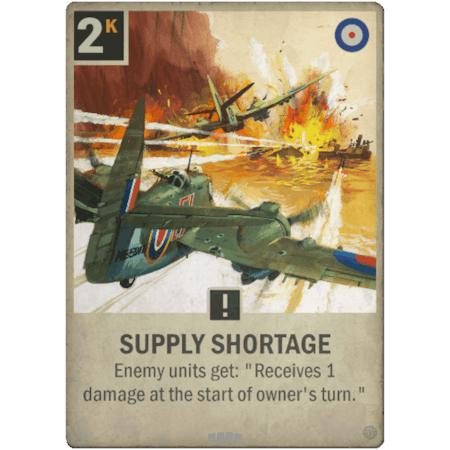 You can access the Skirmish event from the main screen to get an overview of the game mode, rules and prize in-game.

The Skirmish will be accessible between July 15th at 12:00 GMT until Sunday, July 17th at 18:00 GMT.

Make sure to join this special event - win your skirmish to claim victory and the spoils!

Please let us know in the comments below or on the KARDS Discord what you think of the event.

See you in the Skirmish this weekend!