Hello KARDS players!
In January this year, we shared with you some changes that we did to the KARDS esports scene, with some alterations to the Officer Club Championship, the KARDS Open, and introducing a new Special Operations format with special rulesets. You can refresh your memory on these changes here: KARDS eSports in 2023.
Now that we've completed our first full cycle of tournaments since these changes were implemented, we've been evaluating the results and considering the best way to move forward for the competitive KARDS community. With this in mind, we will be making some alterations to KARDS esports in the latter half of the year. Read on for all the details, or, if you're strapped for time, head to the end for the tl;dr summary of changes.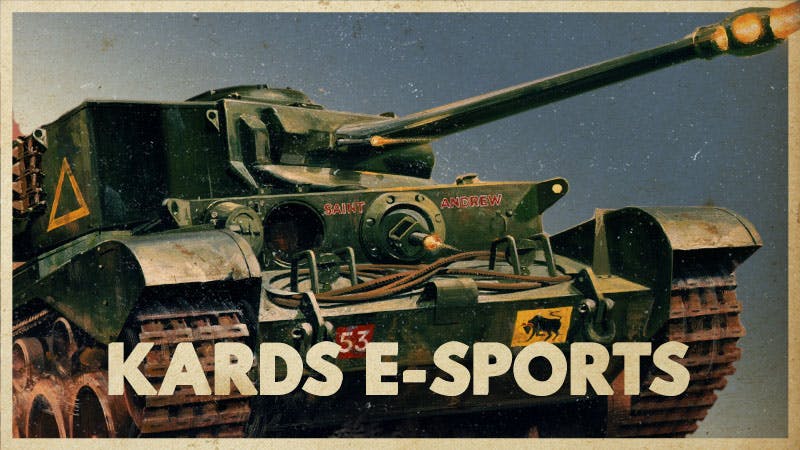 Officer Club Championship
The OCC has always been the flagship and a staple of KARDS tournaments, where the most dedicated and skilled players on the in-game seasonal ladder fight to prove that they are the champion of the Officer Club for that month. A part of our esports changes earlier this year was done to emphasize and highlight these champions of the game further, adding the quarterly OCC: Ultimate tournament with the OCC Leaderboard, where players accumulate points through OCC: Clash participation in the three months leading up to an OCC: Ultimate tournament. Additionally, we moved towards a pre-recorded video format for the OCC: Clash tournaments, to try and create an experience that focused more on the gameplay and expert analysis.
After announcing changes to the OCC format earlier this year, we received a lot of feedback on various aspects. While we did make some initial adjustments based on this, we also felt it was important to allow the format to play out fully and analyze the results before making any drastic alterations to what we had initially decided. Now that we're heading into the second OCC: Ultimate cycle of the year, we're ready to announce some changes we've decided to make based on player feedback and our own analysis of this first quarterly cycle.
Live Broadcast Format
To start off with, we've decided to move all OCC tournaments to a live broadcast format. While there are definitely some upsides to the pre-recorded format, such as being able to edit the show beforehand to put a huge emphasis on the gameplay, as well as some unique opportunities to have seasoned players such as Berto Burrito and Jking7 describing their own games in great detail, we also observed some downsides. By moving the OCC: Clash tournaments towards a live broadcast format, we hope to bring the magic of a live show to the OCC: Clash, with giveaways, excitement, and an overall more engaging experience for our viewers in the chat.
Going forward, you can expect a monthly broadcast for OCC: Clash tournaments, where we'll feature two quarter final games and all semi finals and grand finals games, including a third place matchup, in one day. We'll also have the OCC: Ultimate tournament broadcast live every three months, an event which takes place over the course of an entire weekend, with the quarter final games played on Saturday, and all semi finals and grand finals games, including a third place matchup, on the following Sunday.
OCC: Clash Prize Pool
We're bringing back a cash prize incentive for the monthly OCC: Clash tournament! With a prize pool of 500 USD split among the top 3 players, and Diamond prizes for the players in 4th - 8th place, the stakes are getting higher for our OCC participants! From May onwards, the prize pool will be as follows:
1st: 250 USD
2nd: 150 USD
3rd: 100 USD
4th: 750 Diamonds
5th - 8th: 500 Diamonds
Players will also continue to earn points for the OCC leaderboard to qualify for the quarterly OCC: Ultimate. The OCC: Ultimate prize pool remains the same, at 3,000 USD. Additionally, anyone who wins an OCC: Clash tournament and anyone who qualifies for an OCC: Ultimate will earn the coveted KARDS Champion card back, allowing these players to show off their status as one of the most elite KARDS players in the world!
KARDS Open and Special Operations
The KARDS Open has had a great run since it was first introduced in 2020, providing an alternative official tournament for players who want the tournament experience without climbing the seasonal ladder.
While the Special Operations tournament was only recently introduced, we have run a number of alternative format tournament types throughout the years on an ad-hoc basis. These tournaments have provided opportunities, often for newer players or those who prefer alternative formats, to get some tournament experience and have fun with special rulesets.
As the KARDS esports scene has developed, we evaluate our resources and their allocation, as well as analyzing trends among other video game esport scenes. At this point in time, we feel that the best way to move forward for KARDS esports is by putting our primary focus and resources into the OCC format and community tournaments. We aim to hold one more KARDS Open and Special Operations tournaments for the year each, with the Special Operations taking place in late May and the KARDS Open in June - more details on the exact dates and times to follow. There's still absolutely a chance that we will do more KARDS Open or Special Operations tournaments in the future, but for the remainder of this year, these tournament formats will be taking a rest.
While the KARDS Open and Special Operations formats take a break, we urge you to consider participating in one of the officially supported community tournaments, or consider hosting your own tournament! We are currently focusing on supporting and growing the community tournament scene, providing more resources and support to community organizers.
Community Tournaments
The KARDS community is filled with talented and dedicated people, some of whom have already put a lot of energy into creating and hosting various different community tournaments! Some of these tournaments are done on a regular basis, while others are on an ad-hoc basis. Some of them are open for anyone to enter, while others are invitationals. We've seen the number of community tournaments and participants steadily increasing over the course of the last several months as we've worked with and supported community members and tournaments. KARDS is committed to continued and increased support for community tournaments, which are a crucial part of the KARDS esports scene.
Depending on the tournament, we may be able to offer assistance with things such as in-game prizes, temporary access to our spectator mode to broadcast the tournament, and giveaway codes for viewers on your tournament stream. If you're interested in running a tournament of your own, please reach out to us - we'd love to hear from you! Check out the KARDS Contributor Program, which has a section specifically for tournament organizers. You can also feel free to reach out to our Community Manager directly on Discord: Elin#1695.
The upcoming changes to the KARDS esports scene represent an exciting shift in focus towards a more sustainable and cohesive competitive ecosystem. While the absence of the KARDS Open and Special Operations tournaments for the rest of the year may be felt by some players, the increased support for OCC and community tournaments are expected to provide new opportunities for players to showcase their skills and compete at the highest level.
Tl;dr
The Officer Club Championship (OCC) will be the primary focus as the official KARDS tournament.
OCC: Clash tournaments will move to live broadcast format, as opposed to the pre-recorded YouTube premiere format.
A 500 USD prize pool will be offered for the OCC: Clash, split among the top 3 players, with Diamond prizes for players in 4th - 8th place.
The upcoming KARDS Open XVI will be the last Open planned for the year, with a break taken from this format for now.
The upcoming Special Operations tournament will be the last one planned for the year, with a break taken from this format for now.
Community tournaments will continue to be supported and we will continue to seek ways to improve and increase our community tournament support.
That sums up the upcoming esports changes in KARDS. Join us on Discord and let us know what you think!