Greetings, KARDS enthusiasts!
We are thrilled to announce our summer expansion, Brothers in Arms, will be live for all players on June 27th with 92 brand new cards. Read more about the summer expansion in our announcement blog here!
90 cards move into the Reserve pool on June 23rd. You can read more about our plans for the KARDS release cycle and Reserve pool in our dev blogs: The Cycle of KARDS, FAQ: The Cycle of KARDS and Coming Soon: New Card Set Structure and Content Cycle. To provide a brief summary of what the Reserve pool entails:
Keep using Reserved cards. Reserve cards stay in your collection and you can use them in AI training matches, challenge matches with friends, and an upcoming PvP game mode.
Hand-picked Reserves. Cards entering the Reserve pool are hand-picked, with new expansion cards safe from rotation for at least 1.5 years.
Reserved cards reintroduced. Cards moved to the Reserve pool may return to the active card pool with future expansions.
Stop dropping in packs. Cards in the Reserve pool stop dropping in packs on May 30th.
Create Reserved cards. You can still create Reserved cards with wildcards, but will receive a warning prompt as you attempt to do so.
Reserved cards filtered in Collection. Reserved cards are only visible in your collection by ticking the Reserved Cards box at the bottom of your Filters menu in your Collection.
Reserve compensation. Enjoy a one time compensation as your cards enter the Reserve pool in the form of some packs from the upcoming Brothers in Arms expansion! Following the crate rework planned for this fall, cards that you own entering the Reserve pool will contribute to your crate progress and serve as a compensation mechanic for cards you own entering the Reserve pool.
By introducing a Reserve pool of cards, we are able to provide a fresh game experience while maintaining a balanced and dynamic experience for all our players. We also avoid issues such as power creep and inaccessibility for newer players, which can develop into significant problems without a card rotation.
Reserved Cards
The cards heading into the Reserve pool on June 23rd are as follows: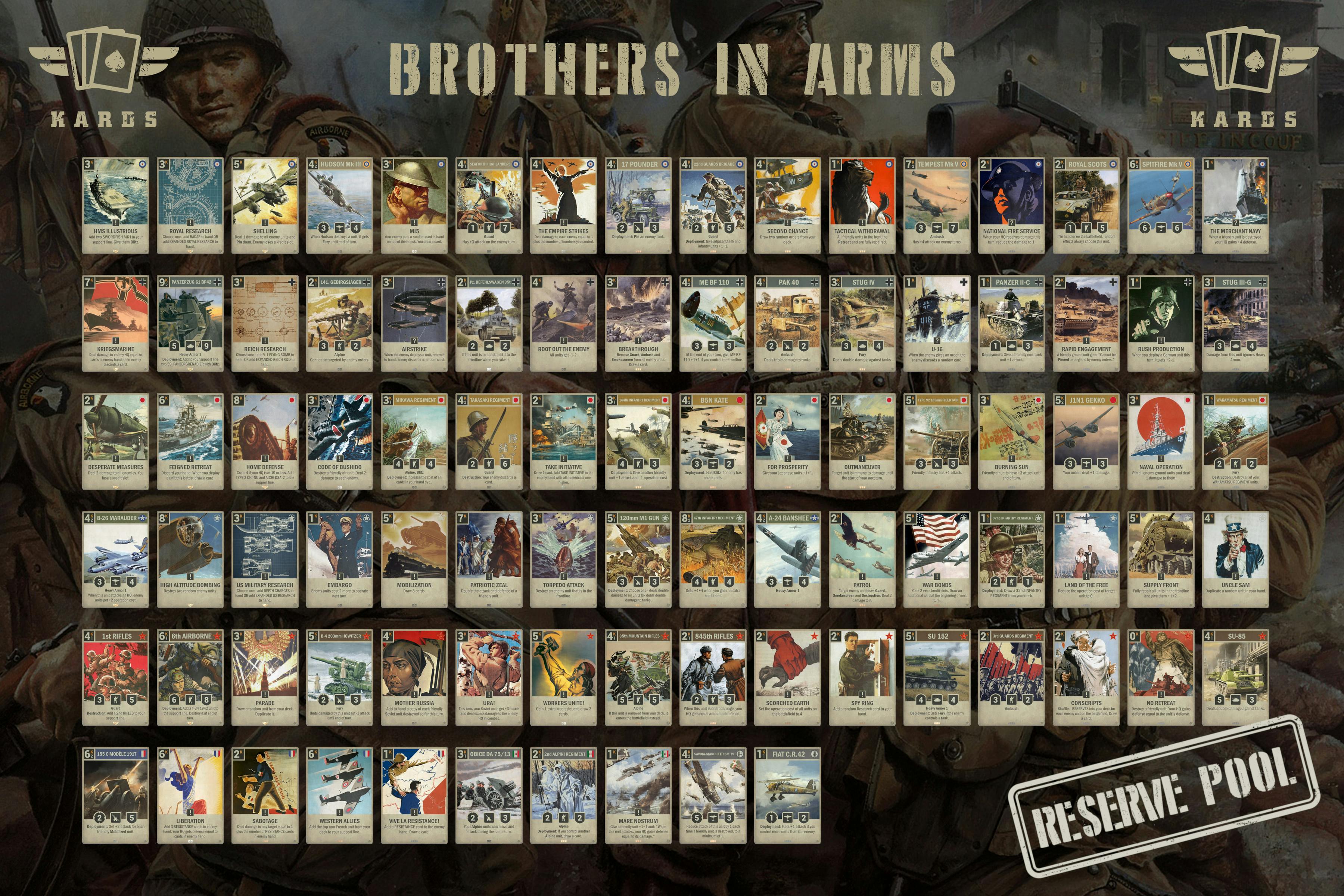 VIVE LA RESISTANCE!
SABOTAGE
WESTERN ALLIES
155 C MODÈLE 1917
LIBERATION
FIAT C.R.42
2nd ALPINI REGIMENT
MARE NOSTRUM
SAVOIA-MARCHETTI SM.79
OBICE DA 75/13
REICH RESEARCH
PANZERZUG 61 BP42
KRIEGSMARINE
ROYAL RESEARCH
HMS ILLUSTRIOUS
SHELLING
US MILITARY RESEARCH
HIGH ALTITUDE BOMBING
B-26 MARAUDER
1st RIFLES
PARADE
6th AIRBORNE
HOME DEFENSE
FEIGNED RETREAT
DESPERATE MEASURES
141. GEBIRGSJÄGER
Pz. BEFEHLSWAGEN 35t
AIRSTRIKE
ROOT OUT THE ENEMY
HUDSON Mk III
THE EMPIRE STRIKES
MI5
SEAFORTH HIGHLANDERS
TORPEDO ATTACK
EMBARGO
MOBILIZATION
PATRIOTIC ZEAL
URA!
MOTHER RUSSIA
B-4 203mm HOWITZER
WORKERS UNITE!
TAKE INITIATIVE
CODE OF BUSHIDO
TAKASAKI REGIMENT
MIKAWA REGIMENT
PAK 40
U-16
BREAKTHROUGH
ME BF 110
STUG IV
TACTICAL WITHDRAWAL
17 POUNDER
22nd GUARDS BRIGADE
TEMPEST Mk V
SECOND CHANCE
A-24 BANSHEE
PATROL
120mm M1 GUN
WAR BONDS
47th INFANTRY REGIMENT
845th RIFLES
SCORCHED EARTH
SPY RING
35th MOUNTAIN RIFLES
SU 152
FOR PROSPERITY
OUTMANEUVER
144th INFANTRY REGIMENT
B5N KATE
TYPE 92 105mm FIELD GUN
PANZER II-C
RUSH PRODUCTION
RAPID ENGAGEMENT
STUG III-G
ROYAL SCOTS
THE MERCHANT NAVY
NATIONAL FIRE SERVICE
SPITFIRE Mk V
LAND OF THE FREE
32nd INFANTRY REGIMENT
SUPPLY FRONT
UNCLE SAM
NO RETREAT
CONSCRIPTS
3rd GUARDS REGIMENT
SU-85
WAKAMATSU REGIMENT
BURNING SUN
NAVAL OPERATION
J1N1 GEKKO
That's all for now. These cards will move into the Reserve pool on June 23rd.

See you on the frontlines, commanders!