Hello KARDS players!

We are thrilled to announce that our winter expansion, Winter War, will be live for all players on November 29th with 86 brand new cards, 2 new keywords, and the fierce new ally nation: Finland! Read more about the winter expansion in our announcement blog here.
At the same time as the expansion is released, 102 cards move into the Reserved card pool, and 20 cards currently in the Reserve pool return to the active card pool. A brief summary of what the Reserve pool entails:
Keep using Reserved cards. Reserve cards stay in your collection and you can use them in AI training matches, challenge matches with friends, and the Classic PvP game mode.
Hand-picked Reserves. Cards entering the Reserve pool are hand-picked, with new expansion cards safe from rotation for at least 1.5 years.
Reserved cards reintroduced. Cards moved to the Reserve pool may return to the active card pool with future expansions.
Stop dropping in packs. Cards in the Reserve pool stop dropping in packs 4 weeks before they move into the Reserve pool.
Create Reserved cards. You can still create Reserved cards with wildcards, but will receive a warning prompt as you attempt to do so.
Reserved cards filtered in Collection. Reserved cards are only visible in your collection by ticking the Reserved Cards box at the bottom of your Filters menu in your Collection.
Reserve card recycling. You can recycle any cards you own in the Reserve pool to add to the progress of your brand new crate - more on the new crate mechanic below.
The Reserve pool of cards allows us to provide a fresh game experience while maintaining a balanced and dynamic experience for all our players. We also avoid issues such as power creep and inaccessibility for newer players, which can develop into significant problems without a card rotation.
The New Crate
Along with the new expansion and changes to the Reserve pool, the re-engineered crate mechanic arrives in KARDS with the Winter War expansion on November 29th!
The new crate is essentially a crate of goodies that you'll be able to open once per week. The contents of this crate will improve based on how much you play, with various factors going towards upgrading the contents of the crate, such as gaining levels in national progression, opening packs and choosing to recycle cards that you own.
Make sure to open your crate every week to maximize your gains! Every week, after opening, your crate resets and starts again at Tier 1. If you miss opening a crate, it will be waiting for you to open it at your convenience upon your return. Do note though that if you miss over a week of gameplay, any further crates you could've opened in that timeframe are lost (e.g. if you work your crate up to Tier 3 and then don't play at all for a few weeks in a row, you'll be able to open your Tier 3 crate when you return, but any Tier 1 crates that you could've collected in between are lost).
Note that any existing crate progress will automatically be resolved when we move to the new system: that is, any full crates will be opened for you and the contents added to your account.
Reserved Cards
Moving From Reserve Pool
With the Winter War expansion on November 29th, 20 cards currently in the Reserve pool return to the active card pool. These cards are: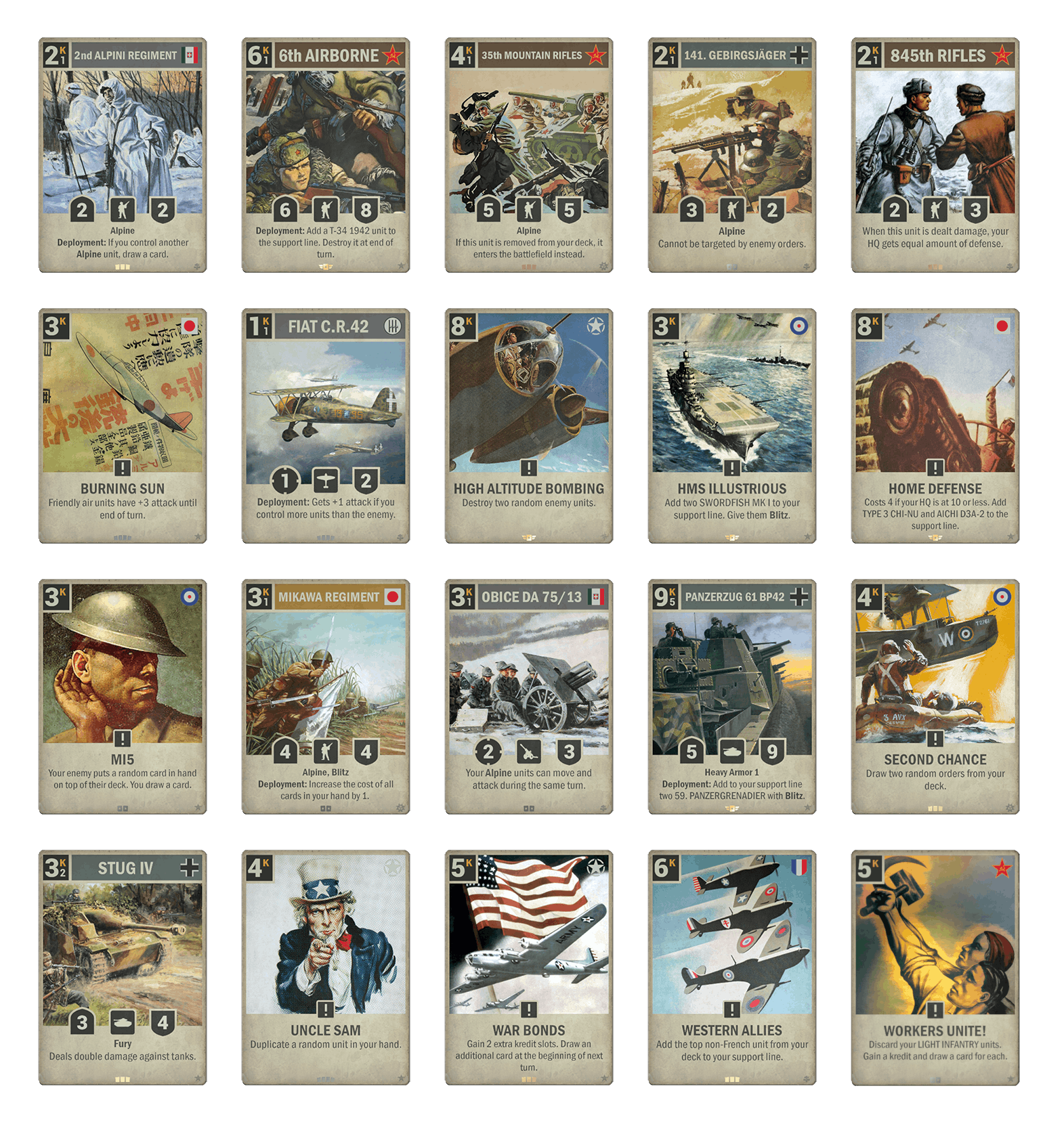 WESTERN ALLIES
2nd ALPINI
OBICE DA 75/13
PANZERZUG 61 BP42
HMS ILLUSTRIOUS
HIGH ALTITUDE BOMBING
6th AIRBORNE
HOME DEFENSE
141. GEBIRGSJAGER
MIKAWA REGIMENT
WORKERS UNITE!
STUG IV
SECOND CHANCE
35th MOUNTAIN RIFLES
WAR BONDS
845th RIFLES
FIAT C.R. 42
MI5
UNCLE SAM
BURNING SUN
Moving To Reserve Pool
A total of 102 cards from the active card pool move into the Reserve pool with the Winter War expansion on November 29th. These cards are: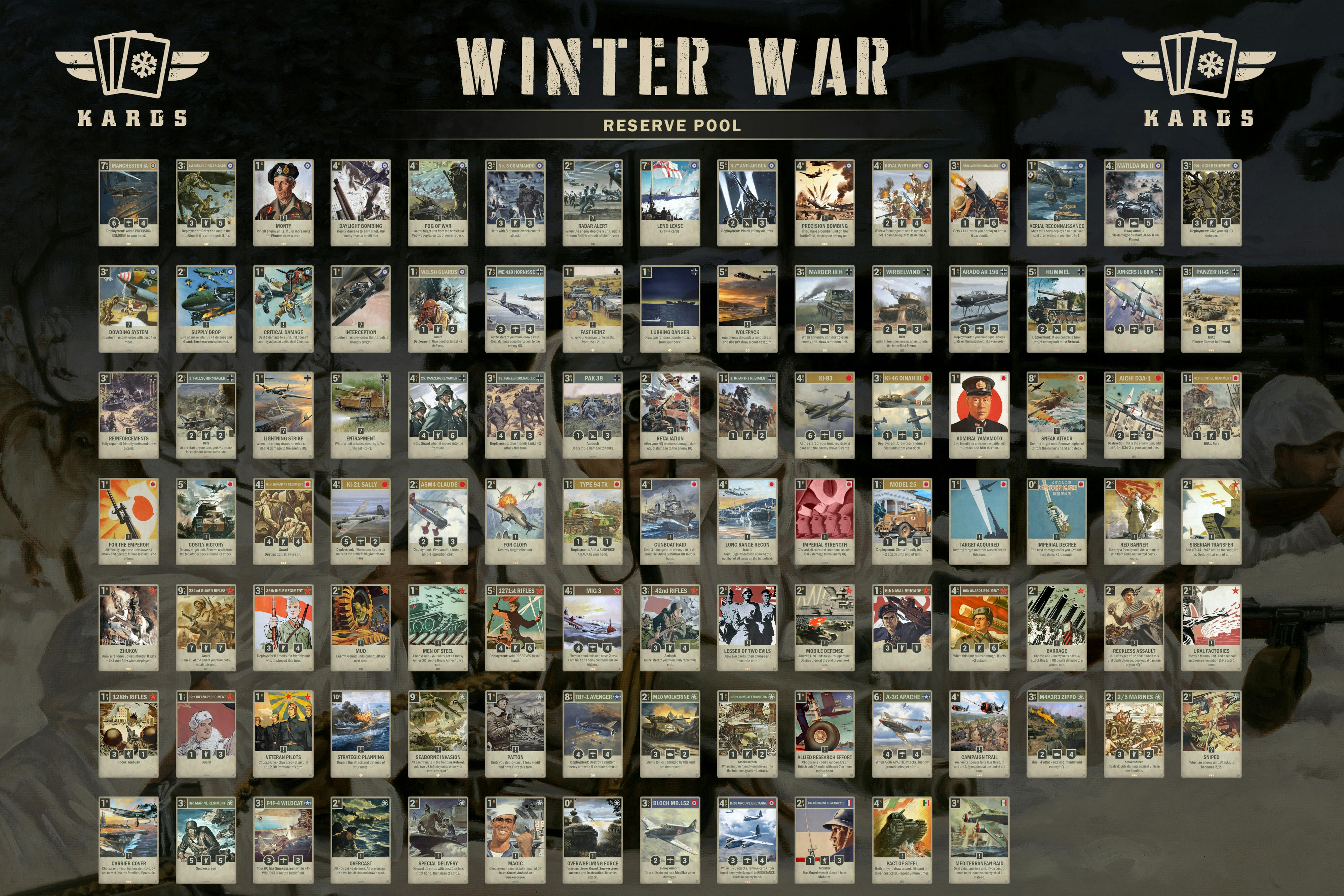 48e REGIMENT DINFANTERIE
B-26 GROUPE BRETAGNE
BLOCH MB.152
MEDITERREAN RAID
PACT OF STEEL
FAST HEINZ
ME 410 HORNISSE
LURKING DANGER
MONTY
MANCHESTER IA
1st AIRLANDING
PATTON
STRATEGIC PLANNING
SEABORNE INVASION
ZHUKOV
RED BANNER
SIBERIAN TRANSFER
ADMIRAL YAMAMOTO
Ki-83
Ki-46 DINAH III
WOLFPACK
MARDER III H
ARADO 96
WIRBELWIND
No 3 COMMANDO
RADAR ALERT
FOG OF WAR
DAYLIGHT BOMBING
ALLIED RESEARCH EFFORT
M10 WOLVERINE
109th COMBAT ENGINEERS
TB-1 AVENGER
MUD
35th RIFLE REGIMENT
222nd GUARD RIFLES
MEN OF STEEL
41st BICYCLE REGIMENT
FOR THE EMPEROR
SNEAK ATTACK
AICHI D3A-1
PANZER III-G
LIGHTNING STRIKE
HUMMEL
3. FALLSCHIRMJAGER
REINFORCEMENTS
JUNKERS JU 88A
AERIAL RECONNAISANCE
ARGYLLSHIRE HIGHLANDERS
PRECISION BOMBING
ROYAL WEST KENTS
LEND LEASE
3.7 ANTI-AIR GUN
CARRIER COVER
2/5 MARINES
SNIPED
CAMPAIGN TRAIL
A-36 APACHE
M4A3R3 ZIPPO
1271st RIFLES
42nd RIFLES
MIG-3
LESSER OF TWO EVILS
6th NAVAL BRIGADE
MOBILE DEFENSE
FOR GLORY
Ki-21 SALLY
A5M4 CLAUDE
COSTLY VICTORY
61st INFANTRY REGIMENT
TYPE 94 TK
1. INFANTRY REGIMENT
RETALIATION
33. PANZERGRENADIER
PAK 38
25. PANZERGRENADIER
ENTRAPMENT
WELSH GUARDS
DOWDING SYSTEM
MATILDA Mk II
SUPPLY DROP
INTERCEPTION
CRITICAL DAMAGE
BALUCH REGIMENT
OVERCAST
OVERWHELMING FORCE
3rd MARINE REGIMENT
F4F-4 WILDCAT
SPECIAL DELIVERY
MAGIC
BARRAGE
VETERAN PILOTS
URAL FACTORIES
RECKLESS ASSAULT
10th GUARDS REGIMENT
89th INFANTRY REGIMENT
128th RIFLES
IMPERIAL DECREE
GUNBOAT RAID
LONG RANGE RECON
TARGET ACQUIRED
MODEL 25
IMPERIAL STRENGTH
That's all for now. These cards will move into the Reserve pool at the same time as the Winter War expansion is released on November 29th.

See you on the frontlines, commanders!